Australian Cricket Homework Jokes
The 4 axed Australians - The butt of all jokes
What hit Australian cricket in the past few days, only Arthur and Clarke know, but it is by far the stupidest, funniest, and strangest reason given for banning 4 players from the 3rd test of the series against India. The fact that the 4 players - Watson, Pattinson, Johnson, and Khawaja - were axed because they failed to turn in a presentation in time to Mickey Arthur, Aus
Humor12 Mar 2013, 14:28 IST
1.34K
Share Options×
Facebook
Twitter
LinkedIn
Reddit
Google+
Email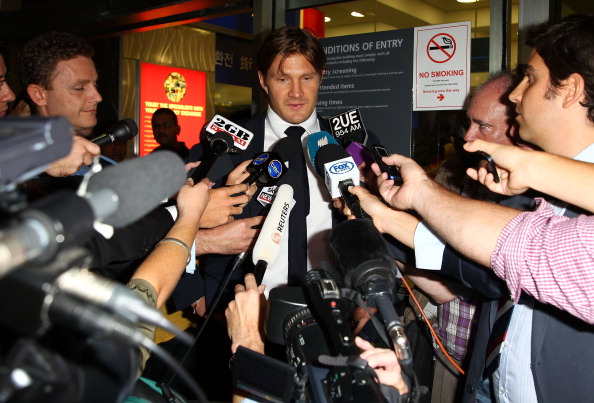 What hit Australian cricket in the past few days, only Arthur and Clarke know, but it is by far the stupidest, funniest, and strangest reason given for banning 4 players from the 3rd Test of the series against India. The fact that the 4 players – Watson, Pattinson, Johnson, and Khawaja – were axed because they failed to turn in a presentation in time to Mickey Arthur, Australia's coach, has become a global colossal joke.
Here is a compilation of all the quotes, jokes, and pics that I have come across regarding this once-in-a-lifetime kind of story.
"What I am confused by is that the coach of Australia asked the players for only 3 things to improve the team by." – Michael Vaughan
"So Australia has drawn a line in the sand. An important first move for any beach cricket team." – RD Hinds
"We need to hire Ijaz Butt again. The Aussies are taking the limelight away from us." – A bemused Pakistan fan
"I'm surprised that's the penalty for something so mundane. It seems like it was on a schoolboy tour or something. It's an over the top reaction." – Allan Border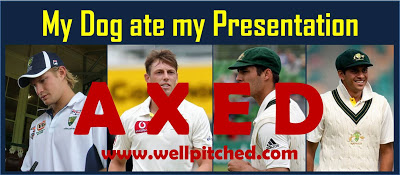 "That awkward moment when Australia become Pakistan." – Alternative Cricket
"From my experience report writing is not a player's strength, no surprise to hear some failing, need to focus more on field short comings?" – Tom Moody
"Shane Watson did not submit his presentation because he did not want to risk injury through a papercut" – An Australian Fan
"Adults we are, not schoolboys! Please let's act properly and make good decisions in India! Need these boys playing." - Darren Lehmann
"To many wrong people are picked for jobs who give a fancy presentation!!" – Damien Martyn
"What is going on with Aussie Cricket?? Didn't realise you had to do an essay to get a selection these days..!!!!!" – Michael Vaughan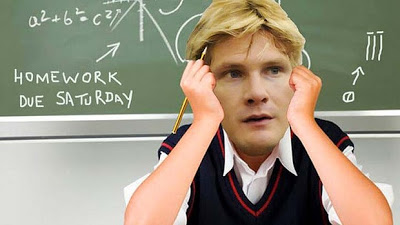 "The Australians are looking to hire a PowerPoint Coach. Applications are to be submitted in the next 5 days via SMS, Email, PPT, or Note Under the Door to Mickey Arthur" – Well Pitched
"Asking Shane Watson to write a 100 words was unfair. He only averages 35" – Fake Richie Benaud
"To punish players for not being able to produce a PowerPoint presentation is baffling. They just haven't done their homework and to punish them is ridiculous. They have not been out until four in the morning, they have not been jumping off ferries or putting hands through doors." – Matthew Hoggard
"The dig ate my homework excuse was refuted by Cricket Australia on the grounds that, allegedly, Michael Clarke does not eat paper" – Mansi Shah
"'If you want feedback listen to Hendrix's Star Spangled Banner. I'm off to the nets' – things the Dog Ate My Homework 4 wished they'd said…" – Mark Butcher
"Mickey Arthur: 'This is a line in the sand.' It's called a crease. Behind it are are three poles: they're called stumps … #laughingstock" – Greg Baum
"I want views of Chappelli, DK Lillee and Rod Marsh on punishments for not doing homework. This feels like a seminal moment in Aus manliness." – Osman Samiuddin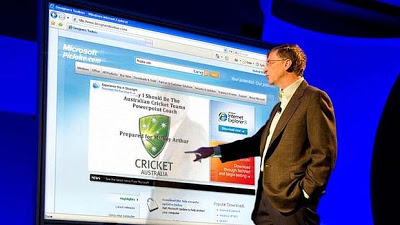 "Will Arthur allow the 4 to play if their parents wrote apology notes and promised that they will ground the 4 for a week?" – Hemant Buch
"Pakistan players are now worried that they might be asked for a 50 page report about how they can improve their test performance" – Well Pitched
"On a positive note Ed Cowans presentation has just been nominated for a Nobel Peace Prize" – Damien Fleming
"Off for a round of golf. David Lloyd is my partner playing against a couple of posh uns. Done my homework so should get selected" – Michael Vaughan
"David Warner copied his homework from Ed Cowan" – Alternative Cricket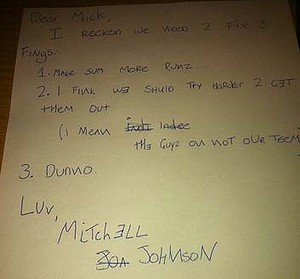 "John Inverarity was my high school headmaster. Not once did he threaten to drop me for not doing homework during my 5 years at Hale. #Legend" – Theo Doropoulos
"Even bigger story @scgmacgill I'm batting 5 next test !!! iPad charged up PowerPoint done" – Damien Martyn
"I bet Australian fans were hoping that Xavier Doherty had also failed to comply with team orders" – Alternative Cricket
"I know Mickey Arthur is African, but must he act like Robert Mugabe?" – Fake Richie Benaud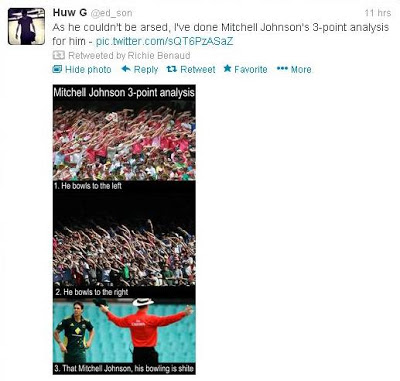 "Shane Watson flies back to Australia and vows to enroll in a presentation skills course to make his way back into the team" – Well Pitched
"Bowl better, Bat better, Catch better, communicate better… Just bloody play better…. I am now available for Selection of Australia..!!!!!" – Michael Vaughan
"Amazing 4 Aussie players banned for not doing homework , I thought letting them play in the next test would be punishment enough #3-0india" – Andrew Flintoff
"Not really up on modern text speak, but gather that ROFL might be appropriate…" - Jonathan Agnew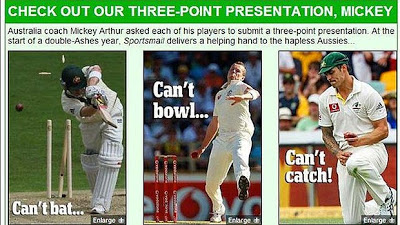 "Australian cricket fans can rest easy tonight knowing the best XI powerpointers will be representing them in the 3rdtest" – Fake Richie Benaud
"At least NZ'ers get in trouble for having some proper fun (read: not fun, against team protocols, naughty boys) No homework, ha" – Iain O'Brien
"Kiwis learning Mike Hesson not such a bad option after all…." – Innobystander
"The only thing that would explain Mickey Arthur is if Ashton Kutcher jumped out of a locker with a camera crew. #punk'dthemovie" – Scotty Cummins
"Reasons for dropping Test cricketers: 1. Texting a South African, 2. Not texting a South African." – Tickers Cricket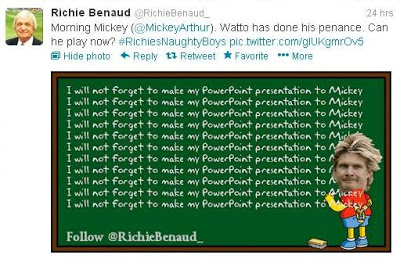 "Four Australians axed from the next Test for lack of texting. This must be very confusing for poor Kevin Pietersen." – Pavilion Opinion
"Oh, so that's what the fifth day of a Test is for? The paperwork." – Will Anderson
"For those asking about my test team. J K Rowling is not injured but rather being rested as part of our ongoing rotation policy" – Special Grant
"In Shane Watson's defence one other time he filled out paperwork and got a paper-cut and missed six months of cricket." – Bretteppa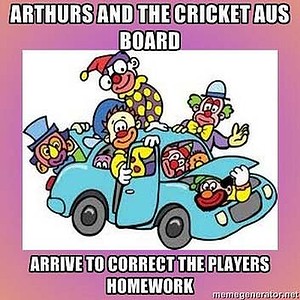 "A rare day when a patient Test 190 by Ashraful is the 2nd most unbelievable event in the Test world" – Sriram S
"I can confirm that the 4 players banned did in fact do a presentation. "Change the coach" appears to be a theme that wasn't the right answer" – Fake Richie Benaud
Border-Gavaskar TrophyAustralian CricketMitchell JohnsonUsman KhawajaShane WatsonJames PattinsonTwiter reactions
Fetching more content...
Fetching more content...
The internet has been ablaze with heated cricket talk and for once this Ashes series, it didn't involve a single mention of DRS. The Twitter pitchforks were at the ready in the wake of comments by veteran Daily Telegraph cricket writer Scyld Berry that Australia's Usman Khawaja was in the Test XI as a result of "Australia's experiment with their Asian immigrant population". As far as I could tell, the mob had also found a leader of sorts in the former New Zealand seamer Iain O'Brien; the kind of exotic and unpredictable scenario that social media throws up from time to time.
I'm not certain it was anything more than a ham-fisted and regrettable turn of phrase from a writer working to a tight deadline, but it was definitely worthy of explanation and Berry later added it was, "an attempt to portray the unique position in which [Khawaja] finds himself as the first Muslim to represent Australia – and, broadly speaking, the first non-white since Sam Morris in the 19th century." A cricket scholar of Berry's ilk would surely have known that Jason Gillespie, an indigenous Australian, may well disagree with that assessment, Andrew Symonds perhaps even more so.
He would also know that Rex Sellers, a British passport-holding, Indian-born leg-spinner who played Test cricket for Australia prompted no small measure of angst within the English cricketing press when chosen in the Australian Ashes squad of 1964. In response, the cricket-loving prime minister Robert Menzies fast-tracked Sellers's citizenship at a rate that, all these years later, makes Fawad Ahmed's blessing from the Gillard government look like a glacial drift. Australia's immigration policies remain an uncomfortable and emotive national discussion, but cricket history has shown that if you can bowl a decent wrong 'un, we do indeed have boundless plains to share.
Berry, a former Wisden editor and veteran cricket correspondent is a well-travelled writer. His understanding of Asia and the often dramatic shifts in cricketing geopolitics is immense. When appraising Berry's fascinating account of England's 1981-82 tour of India, Cricket Wallah, Wisden India editor Suresh Menon noted, "Berry's book is one of the best ever. Somehow through the dust and the grime and the confusion he was able to see a future when India would call the shots."
The Berry furore is itself a decent jumping-off point for a discussion of the diversity, or supposed lack thereof, within Australian cricket. It's a perception that Cricket Australia is well aware of. Diversity strategies and inclusive programs now abound. By 2015, it's believed that 40% of Australians will have a parent who was born overseas, a situation that has driven CA to make significant strategic changes, as much for the sake of its bottom line as for perceptions of the diversity of the game's participants.
In naming the Prime Minister's XI to play to play the West Indies in January of this year, Australia's national selector John Inverarity selected Khawaja, Ahmed and the New South Wales fast-bowler Gurinder Sandhu, players who he noted, "reflect the cultural diversity of our pathways system." It may have been a statement straight out of CA's corporate jargon handbook, but the body also put money where its mouthpiece is and handed Sandhu and Ahmed lucrative marketing contracts. This is less experimentation than a realistic acknowledgment of evolving demographics, a reappraisal of their target audience and a move away from a 'pale, male and stale' history. Whatever the primary motivation, it can only be of benefit to the game in Australia.
The 'whiteness' of Australia's cricketing past has at times also been a legacy of factors beyond the remit of the game itself. Until the past 25 years, Australia had not experienced the same waves of immigration from cricket-playing nations as, for instance, England has. That cannot itself explain away cricket's failures; for all the calypso flair of 1970s, for instance, it was largely left to Len Pascoe to carry the flag for the masses of European post-war migrants. The cricket-loving Sri Lankans of both Sydney and Melbourne also probably have a compelling story to tell about the past failures of Australian cricket administrators to nurture or promote talented players from within their communities.
For all that, the roll call of Australian Test cricketers is beginning to reflect the increased multiculturalism in Australian society. Where once the national team was a sea of Davises, Smiths and Joneses, recent decades have seen scoreboards bear names like Kasprowicz, Krejza, Henriques and Agar.
For Khawaja himself, it's doubtless that Berry's comments were an unwelcome distraction from his primary problem at the moment, which is weathering the storm of a brutally trying Ashes series and trying to live up to a proud cricket nation's expectations of his bountiful gifts. Neither an experiment nor a savior, Khawaja is a just another young man trying to establish his cricketing identity. In that respect, he might even relate on some level to the words of Andrew Symonds before him, "I'm sometimes asked whether I consider myself 'black' or 'white', but the real answer is that I'm just me."