Xenakis Rebonds B Analysis Essay
Grant Chu Covell
[October 2006.]
From an American CD review:
I go out of my way to appreciate and enjoy new music, but I do not like the music of Iannis Xenakis. Although he is considered an important contemporary composer, I find his music ugly and repellent. I would like to like his music, though, because his life was remarkable. A freedom fighter in Greece in World War II, Xenakis (1922-2001) was a mathematician and architect who used mathematical and architectural principles when he wrote music. If his music is any indication, his mathematical and architectural principles were repulsive. His music is deliberately shrill, grating and annoying.
Not everyone has to like Xenakis, though I wish everyone would. Be that as it may, it astonishes me that he can still generate such infantile responses. I take special exception in the cited instance to the journal's editor, who should have had the sense to tap a more sympathetic reviewer. However, this "Xenophobe" (Xenakis means "little stranger" in Greek) does make a valid point: War was a fundamental influence. Much of this exile's music relives a period's chaos and brutality. He lost an eye fighting Fascists and, until 1974, would have been executed had he returned to his homeland. Nature is another theme, especially from the perspective of classical literature: the Iliad's battlefields and the Odyssey's wine-dark seas. Anger and pain pervade. Astonishingly, Xenakis once revealed a fondness for Brahms because, among other reasons, he was unable to compose similarly. Indeed, Xenakis is Brahms' antithesis.
While not all Xenakis recordings are essential listening, he wrote much the difficulties of which are only now becoming manageable, and for this alone, most every new recording warrants celebration. Here's the first of two helpings of recent releases and ongoing series, plus some obscure items thrown in as lagniappe. Among this batch, my favorite track is Jonchaies; a favorite disc, mode's re-release of piano works.
James HARLEY:Xenakis: His Life in Music. Routledge, 2004. ISBN 0-415-97145-4, xii + 279 pages (http://www.routledge.com/).
Makis SOLOMOS, ed.: Présences de Iannis Xenakis [Presences of Iannis Xenakis]. Centre de Documentation de la Musique Contemporaine, 2001. ISBN 2-9516440-1-9, 268 pages (http://www.cdmc.asso.fr/).
The serious Xenakis fan must acquire Harley's book. Weaving history and analysis, Harley covers every stylistic adventure, piece and project. The compositions take priority. The biographical thread frequently vanishes — Xenakis' failing health is delegated to footnotes. Nouritza Matossian's 1986 biography, essential for the composer's formative years and his work in Le Corbusier's atelier, will be less frequently consulted where music is concerned. Unlike most listeners, Harley has had access to the scores. His descriptions by measure number may frustrate, but he also cites aural signposts. Because Harley can relate pieces chronologically and contextually, his insights surpass most program notes. He also insists that one need not be a mathematician, architect or scientist to enjoy or analyze Xenakis, providing explanations easier to navigate than the composer's own in Formalized Music. Welcome revelations abound. I'm dumbfounded that I've never noticed that the 1996 duet for violin and cello, Hunem-Iduhey, takes its title from the dedicatee's name in reverse.
Serious English-language writings about Xenakis are rare. Perspectives of New Music sprinkled several Xenakis-related remembrances and articles across three issues in 2001 and '02. Issued in paperback, the dual-language Présences de Iannis Xenakis [Presences of Iannis Xenakis] collects scholarly essays on multiple aspects of Xenakis' work, with articles appearing in French or English. Harley's valuable contribution categorizes late orchestral works. One section offers essays on Xenakis' architecture and polytopes. The analyses tackle pieces recordings of which are available. It's interesting to see traditional musicology, spectral analyses, and mathematics brought to bear on the subject. Diagrams and musical examples facilitate browsing. Editor Solomos has sensibly included a complete list of compositions, which Harley's book lacks.
"Complete Works for Piano Solo." Iannis XENAKIS: Evryali (1973); Dikhthas (1979); Herma (1960-61); Palimpsest (1979); Six Chansons pour piano (1950-51); Mists (1980); À.r. (Hommage à Ravel) (1987). Aki Takahashi (pno); Jane Peters (vln); The Society for New Music, Charles Peltz (cond.). mode 80 (http://www.moderecords.com/). Edition Iannis Xenakis Volume 4. A 2006 reissue adds the Six Chansons.
"Music for Strings." Iannis XENAKIS: Syrmos (1959); Aroura (1971); Voile (1995); Theraps (1975-76); Analogique A + B (1959); Ittidra (1996). John Eckhardt (contrabass); Ensemble Resonanz, Johannes Kalitzke (cond.). mode 152 (http://www.moderecords.com/). Edition Iannis Xenakis Volume 6.
Recently reissued and expanded, the fourth release in mode's series is an excellent Xenakis collection starter. With exceptional flair, Takahashi breezes through extraordinarily difficult solo-piano works. Evryali contains an impossible C# above the piano's range, sudden pp-fff contrasts, and repeated notes in horizontal courses forming staccato chords beyond most ten-finger capacities. Takahashi's interpretation reveals a jazz-like opening. She later finesses the compounded layers. Herma, Xenakis' first piano solo, has the dubious honor of being known as "that set-theory piece." Here it's all music. Mists, the last large solo-piano score, opens with modal scales and soon scatters notes across the spectrum. Other players, such as Helffer on Naïve Montaigne's collection of Xenakis' piano and string chamber music (with the Arditti Quartet on MO 782005), emphasize the score's violence, especially Herma's. Takahashi emphasizes the musicality of these finger-busting moments, and mode's production minimizes the piano's percussiveness, doubtless with Takahashi's approval.
Mode wisely interleaves the three big solos with contrasting works: Palimpsest for piano, percussion, winds and strings, and the violin-piano duo Dikhthas. The 2006 reissue adds a premiere recording of the early 1950-51 Six Chansons pour piano, sounding like folksy Bartók or Koechlin, with melody afloat above accompaniment. As with Webern's Im Sommerwind, the Six Chansons offer no hints of the mature composer's art.
Palimpsest is a comprehensive primer with characteristic wind scoring (long tones, microtonal inflections, massed chords, glissandos and acrobatic gestures) and emphatic percussion, including loud solos built from short motives. The chamber work hugs the Locrian mode (B-C-D-E-F), a noisy, dissonant romp that speeds the parting guest. However, the team avoids from extremes of the rambunctious Palimpsest on Wergo 286 178-2, with Helffer and the Spectrum ensemble under Guy Protheroe. On the same disc, Arditti joins Helffer for a caustic Dikhthas. Their more seasoned Naïve Montaigne take retains energy. By comparison, Takahashi and violinist Peters are less focused though aggressive when necessary. The violin's microtones attempt to stir the piano's opening, setting the stage for contrasts. The attuned ear will note a pattern in Dikhthas beginning near 12:08 repeated around 5:27 in Palimpsest. Completing the program, the encore À.r., a solo piano homage to Ravel, alternates clusters and modal scales in contrary motion.
Mode's sixth Xenakis disc spans a wide range of periods, positioning two late ensemble compositions, Voile and Ittidra, against an early piece for strings and tape, Analogique A + B. At the end of his life, Xenakis' style changed as did his physical ability to complete lengthy, note-rich compositions. (The 1993 Mosaïques frankly collages several orchestral compositions.) The earliest works brim with independent lines that cycle rapidly through varied sound production techniques. Shorter in length, the last works reveal less flexibility and fewer moving parts.
Like angry insect swarms, Syrmos and its close cousin Analogique A + B toss out unsynchronized textural changes. Analogique A + B's snappy tape sounds mildly antiquated. Significantly less intense, Aroura's 12 players behave as a single body mutating through glissandos, unisons, col legno clattering and pizzicato bursts. The under-five-minute Voile employs sustained tones with a clustered folksong at its center. A gargantuan work for solo contrabass, Theraps requires quadruple stops and double glissandos in contrary motion. Ittidra's leaden string sextet (written for Arditti, its title is another reversal) grinds out slowly changing harsh chords for 8:42. Where Theraps is fiendishly difficult and continuously changing, Ittidra is sedate and monolithic. This release demonstrates just how grueling composing must have become for Xenakis.
"Orchestral Works, Volume 1." Iannis XENAKIS: Aïs (1980); Tracées (1987); Empreintes (1975); Noomena (1974); Roáï (1991). Spyros Sakkas (bar); Béatrice Daudin (perc); Orchestre Philharmonique du Luxembourg, Arturo Tamayo (cond.). Timpani 1C1057 (http://www.timpani-records.com/). Distributed in the US by Qualiton (http://www.qualiton.com/).
"Orchestral Works, Volume 2." Iannis XENAKIS: Jonchaies (1977); Shaar (1983); Lichens (1983); Antikhthon (1971). Orchestre Philharmonique du Luxembourg, Arturo Tamayo (cond.). Timpani 1C1062 (http://www.timpani-records.com/). Distributed in the US by Qualiton (http://www.qualiton.com/).
Timpani has so far released four discs devoted to Xenakis' works for large orchestra. With so much arresting music on each disc, it's easy to overlook each individual piece's subtleties. Indeed the program notes run the risk of repeating the same descriptive formulas. Frustratingly the French, English and German notes have different authors and content. [I regard this as a plus. — W.M.] These shortcomings shouldn't affect the music's force or the listener's enjoyment. Volume Two's Jonchaies is supremely essential.
Volume One opens aggressively with a falsetto-singing baritone and solo percussionist in the foreground. The shattering Aïs incorporates wails, mimicked bird-cries and texts about death from Homer and Sappho. The composer had the versatile baritone Sakkas in mind when he wrote the piece (the 1987 Kassandra movement of Oresteïa was intended for Sakkas and percussionist Sylvio Gualda [Naïve Montaigne MO 782151]). The terse Tracées moves volcanically, rampaging on to its abrupt conclusion. The most mysterious work here, Empreintes' brass opening holds to a single pitch despite string interference. The slithering strings give way to winds voicing repeated notes. With speeding glissandos, Noomena's score must look like designs for an Olympic luge track. The slower-paced Roáï teems with variety up to its uncharacteristically chilling fadeout, possibly the only Xenakis piece which doesn't simply stop.
Volume Two begins with a bang. There's no other way to say this: Jonchaies kicks ass. Gargantuan orchestral swells crash over hammered chords phasing in and out. For pure organic power, this Xenakis masterpiece sends Le Sacre du Printemps packing. The opening is a vast string swoop in the modal Gamelan scale pelog. The central section arranges combative expanses of pulsating attacks as instrumental choirs swell at different rates. Later an extended slithery trombone solo recalls Keren, and the final orchestral shimmer leading to the massed piercing piccolos will leave you shaking. This rendition is crisper than the Donaueschinger release on col legno 20504, the grittiness of which compensates for the fuzzy acoustic.
The string-orchestra essay Shaar explores massed glissandos and strident attacks. Savor it after a palate-cleansing session with English string-orchestra music. Lichens contains a heady exploration of orchestral colors. Tamayo's incredibly energized orchestra works magic at the winds' first appearance, when they displace the strings and at those few moments following when the bottom succumbs to a virulent percussion. Where other compositions explore shapes or the orchestra functions en masse, Antikhthon behaves unpredictably, sequencing unrelated motives separated by silence, a bit like Klangfarbenmelodie with apartment blocks taking the place of single notes.
Iannis XENAKIS: Okho (1989); Rebonds (1987-88); Psappha (1975). Pedro Carneiro (perc), Matthew Rich, Stephen John Gibson (djembes). Zig Zag Territories ZZT 040901 (http://www.outhere-music.com/en/labels/zig-zag-territoires). Distributed in the US by Forte Distribution (http://www.fortedistribution.com/). 1 CD-DVD: side A has four audio tracks, side B has two DVD tracks: a "Making of" documentary and a video excerpt of Rebonds B.
Iannis XENAKIS: Nyuyo (1985); Zyia (1952); Dmaathen (1977). Pascal DUSAPIN: Ici (1986); Shin'-Gyô (1981); Laps (1987); I Pesci (1989). Cécile Daroux (fl), Jean-Marie Trehard, Jean Horreaux, Christian Rivet (guit), Yumi Nara, Françoise Kubler (sop), Jean-Paul Céléa (contrabass), Dimitri Vassiliakis (pno), Johannes Faber (perc). Naïve MO 782173 (http://www.naive.fr/). Distributed in the US by Naxos (http://www.naxos.com/).
The neophyte would do well to start with the percussion music. Absent pitch, Xenakis' manipulation of rhythms and patterns becomes readily audible. You will hear one texture gradually replaced by another (Psappha's opening) or a working-through of multiple combinations (Rebonds B's start). (The large ensemble pieces Persephassa and Pleïades audibly expose similar compositional effects.) Where brass players dream of Bruckner, percussionists wish for Xenakis.
Okho is scored for three djembes (large African drums). There's more bluster and swagger in the 1991 Trio Le Cercle (Jean-Pierre Drouet, Willy Cocquillat and Gaston Sylvestre) release on the Arditti Quartet's "France" disc (Montaigne MO 782002). Xenakis wrote only two solo percussion pieces, Psappha and Rebonds. Carneiro figures in the best recordings to date. (His dominance may well yield to mode's upcoming three-disc set featuring all the percussion works.) He and the Zig Zag team have captured ephemeral percussion sounds remarkably well. Carneiro dispatches Psappha in a brisk 12:40. At 16:02, Michael Pugliese on mode 25 is also less vital. Rebonds' two movements can be programmed in any order. A is the slightly less regular half; B begins firmly and unfolds evenly. Carneiro takes B first as seems the custom (Robert McEwan on mode 53, Steven Schick on Newport Classic NPD85566). B concludes against the grain, its frenetic pace dissipating into widely spaced rests. Schick's intimate recording could use a touch more resonance, and McEwan loses focus. Carneiro and Zig Zag offer greater dynamic range and presence. However, a coolish finesse in execution of the tricky parts (Rebonds B's ending) disguises acrobatic efforts. Such issues are discussed in the accompanying video where you can see the performer laboring. Included are interviews with Zig Zag's production staff, the composer's daughter, and Xenakis scholar Solomos.
Flutist Daroux (who doubles on piccolo and flutes in C and B-flat) curates a quirky collection of "master" and "disciple." It's believed Xenakis never actually taught anyone composition, but he did offer Dusapin some guidance: "Rather than teach, he turned our thoughts to a great deal of experiences: musical, philosophical, architectural, mathematical or physical.… During all these years, I only showed him my work once, and regretted the gesture."
The three Xenakis offerings are composer-blessed arrangements. Nyuyo, Xenakis à la Japonaise, originally for shakuhachi, sangen and two kotos, has been revised for flute and three guitars. The early composition Zyia, for soprano, flute and piano, without the original male-choir, aligns rustic Bartók and Stravinsky with the Fibonacci series. While its percussion part remains untouched, Dmaathen's oboe has been replaced with a flute in B-flat negotiating glissandos and tricky multiphonics.
Dusapin's moody compositions are best taken in small draughts. I Pesci is a fairly conventional solo-flute piece whereas Ici slithers. Both reveal Daroux's exceptional playing — I wish either Varèse's or Debussy's classics were thrown in for good measure. With its amorphous held tones, Laps, an intriguing duet originally for clarinet and contrabass, reminds one of Scelsi. In this arrangement, the pair plays one tone higher to oblige the C-flute. The itsy Shin'-Gyô pairs piccolo with soprano.
(A note to Naïve's usually more astute art director: It's nearly impossible to read white type on the pale avocado background.)
[More Grant Chu Covell]
IX – INANNIS XENAKIS   (LINN CKD495)
BOOKLET NOTES By Kuniko Kato
Iannis Xenakis was a Greek-French composer whose name and work has had a huge impact within the world of music, and thankfully in particular on percussion repertoire. Not only was he a composer, he was also an experienced music theorist and an architect-engineer. Xenakis mastered his own way of composition by pioneering the use of mathematical models within his compositions. Amongst his catalogue of compositions, he has left us great music for orchestra, solo instruments and various ensembles that are greatly appreciated. Xenakis' music is very profound and some think it is impossible to play. Each composition is perfectly constructed and every note is the result of a calculated decision to eliminate any ambiguity and prevent the wastage of any single note. Each marking is significant and of value.
Xenakis was influential in the development of electronic and computer music. He liked to experiment with combining music with architecture and different spaces; he sought to find the perfect composition or performance opportunity for existing spaces in addition to composing music with a specific space in mind.
Today, it is very easy for us to type all of our compositions perfectly into a computer, that is, if you're good with computers; but why is it that Xenakis chose to write everything down by hand and present it to us this way?
Humans are not machines. Even if you tried to play perfectly like a machine, there would most likely be a natural rhythm within our bodies that would cause various fluctuations during performance. Working with the finest percussionists, such as Sylvio Gualda amongst others, I believe Xenakis experienced these human fluctuations; the physical limitations of performers, the equipment and performance spaces, and sometimes, even miracles and excitement too. These beliefs have led me to think that Xenakis created not just simple pulse combinations, but instead captured these misalignments in his music based on his experiences and understanding of human natural tendencies.
The most interesting and fascinating aspect of Xenakis' music for me is that no matter how many times or how thoroughly I've read through one of his scores, I am always able to find something new to explore with each reading. I have been surprised by unusual harmonies, unique combinations of complex rhythms and I have discovered beautiful melodies in unexpected parts of the score. This pleasant phenomenon occurs both when one delves straight into his scores and plays the music faithfully, without showing any personal taste in one's approach, but most surprisingly, I was able to find even more from his music after hours of studying Xenakis' works. This dedication has allowed me to see the spectrum of imaginative ideas he had, his interests and even his hopeful expectations for percussion through his various experiments within the scores. His grand ambition for the construction of each composition has become clearer to me with each reading. Additionally, there is a vibrant sense of fun in his detailed phrases and rhythms which I also enjoyed discovering. Xenakis' limitless ideas must have been overflowing whilst he was composing, and from these discoveries, I believe it's safe to assume he thoroughly enjoyed himself in the process.
After many hours with these compositions, deciphering each note and analysing the enormous amount of care that went into his hand- written scores, Xenakis' music has become a part of my body and soul. As a musician, I have tried to express all of the observations I've discovered as faithfully to the score as possible, and to the best of my ability. I hope that the insight and emotion I've created through sound is released into space and reaches the ears of you the listener. I am so happy to be able to share this special music with the world.
PLÉÏADES (1978)
This great piece is constructed of four sequences. It was originally composed in 1978 and commissioned by Rhin Opera. Its world premiere was performed by Les Percussions de Strasbourg.
Pléïades is very popular and famous within the percussion community as an ensemble piece and has become a standard part of the repertoire. It's not a well-known fact, but this piece was originally written for dance. Coincidentally, the original motivation that led me to this work was a dance project I was involved in premiering in 2014.
Xenakis suggests that the six percussionists, with mostly the same instruments, are to be positioned in the centre, either in a circle or horizontally lined from right as A-B-C-D-E-F towards the audience. He then left some freedom for the players to determine which sequences are to be played and in which order, although he does suggest four orders. His suggested orders experiment with different combinations of basic rhythm and complex polyrhythm (multi-rhythm), as well as low to high pitches, with accents being an important tool in each sequence.
Mélanges
'Mélanges' means mixtures and as the title describes, it is the mixture of all the instruments coming together in order to prepare for the following sequences.
Phrases are taken from each of the sequences and are combined with different timbres to expand the musical theme as if it was a completely different sound-world.
This sequence makes me imagine walking through the twinkling lights of a street market at night with shops lined up one after the other. And as I continue walking through the streets, wondering where I am going next, I am suddenly surprised to hear a commotion akin to a toy box tipping over. This display of sound is full of humour with a strong sense of fun.
Métaux
A SIXXEN, a specially crafted instrument for this composition appears within this sequence (see image of SIXXEN on pages 2, 3 and back cover of the booklet). SIXXEN is named after SIX percussionists and XENakis. It is made up of nineteen metal bars with irregularly distributed pitches. The six SIXXEN are tuned slightly differently in an attempt to avoid unisons in the music. This instrument is played with a metal hammer. I can feel Xenakis' imagination and his desire to create a beautiful metal sound through the SIXXEN.
After many experiments with various materials (aluminium, steel and brass), the sizes and the shapes (such as open end, closed end, etc.) of the metal bars, I finally decided on steel square tubes of a certain thickness. Nineteen bars multiplied by six instruments equals 114 metal bars (plus some spares!), which meant I had to choose over 120 steel bars of varying sizes for different pitches. This in itself was a full day's work. Choosing these 120 bars felt and sounded like someone sorting through scraps at a metal shop, however once they are laid out on the custom SIXXEN frame made by Adams it looks like a complete instrument.
The first note of this sequence starts as a single atom, and one by one, more sounds and polyrhythms are combined from the six parts, creating an overtone from the six SIXXEN that starts filling out the sound-space like a myriad of bell crickets singing at the same time. Or quite possibly like the initial atom into molecules from which the universe was born and burst, releasing a variety of shapes and colours.
Claviers
As the title describes, this is the sequence for marimba, vibraphone, xylophone and xylo-marimba (or xylorimba, which is the occasional term that appears in French compositions, as it is an instrument between marimba and xylophone). One of each instrument is assigned to each of the six performers, which creates a unique acoustic structure. I personally find the effect of using six vibraphones absolutely fantastic. Xenakis takes the music through what seems like every sound combination possible, almost as if he was trying to recall the universe's constellations. It is more an experiment on a mathematical fusion than an emotional one. The last coda section has an unexpected, yet amazing, tutti like gamelan section.
Peaux
This sequence is probably the most popular and most frequently performed in live performances. It is mostly made up of a variety of combinations of rhythms based on eighth, sixteenth and thirty-second notes as well as polyrhythms. Somehow, through these combinations of rhythms, together with the accents, a variety of melodies and uplifting rhythms unfold. Finally we arrive at the universe's 'Big Bang'; this sequence is the real highlight of Xenakis' drumming world.
The title Pléïades does not seem to directly relate to the Pléïades star cluster and its Greek mythology, however Xenakis' works are a sort of magnificent universe to me. When I play his work, I always feel the scale of his music and I am pulled in to his universe as if something was drawing me in. To understand this fantastic music, I spent an enormous amount of time reading the scores, creating the SIXXEN and selecting the other instruments, along with the mallets and heads. Throughout my preparation and performance of each note, to me, there always seemed to be a myriad of stars which appeared, sparkled and scattered as each note of the music was created.
Despite this challenge, Xenakis' intentions are always extremely clear – what he intended to do and how he wanted to construct the music. There will always be things that we as humans can't completely perform. Perhaps every percussionist has experienced this at some point.
Xenakis' intended fluctuations on the time axis and various timbres, pitches and rhythms allowed me to create an even more powerful sound and energy. Even if everything was written to be perfectly aligned, it can never be perfect and nothing can be repeated exactly the same, which is how he intended to generate more energy. He has demanding expectations for each of the percussion instruments he's chosen throughout the music.
Sometimes I wonder what kind of thoughts Xenakis had when writing this music. Leaving Greece to live in Paris on his way to exile in the USA, what did he see and find there? There were many genres of arts, many artists full of passion coming and going, and it was a very active and vibrant era to develop new things. I like to believe that he must have been inspired and self-motivated from this part of the world.
After I finished recording Pléïades, I went to Étretat, France where I felt the ocean breeze while overlooking the English Channel from the quay. As I pondered over the past year of dedicated hard work, I reflected on what a truly great composer Xenakis was and how music is full of mysterious charm. And with this reflection, I found myself ready for my next challenge.
REBONDS (1988)
As a percussion soloist, this is a piece that I have been playing and performing throughout my entire career. This is my second recording of Rebonds. This piece is perhaps the most popular percussion solo repertoire that there is, and I remember it being performed at many festivals, concerts and masterclasses when I started travelling to Europe in the early nineties. Rebonds, written by Xenakis in 1988, was the follow up to his first piece for solo percussion Psappha, composed in 1975. Rebonds was written as a standard score, unlike Psappha which was written as a graph notation. The instrumentation for Rebonds is more realistic and feasible for every percussionist to play, which is one of the reasons why I prefer to play Rebonds over Psappha.
At the time of publication, it was very difficult to find out about solo percussion repertoire in Japan. I was very curious to see what was going on in Europe and how these pieces were being played, so I made the decision to travel to Europe. In those days I could barely follow the score, and after playing through them I was out of breath. Since then, I have played this piece numerous times; developing my technique, physicality and interpretation of the piece over the years. However, for this recording, I wanted to take time to re-study the whole piece and start my interpretation from scratch once again. As I revisited this composition, I was constantly surprised at how many new discoveries I made and how my understanding of this familiar piece was able to evolve.
When speaking about Xenakis, I need to mention a certain percussionist, Sylvio Gualda, who is one of my all-time favourite, and a highly respected, percussionist. During my studies I listened to his recordings in the library and was amazed. It had always been my dream to see him perform and in 2010, I was fortunate enough to see him in Brisbane, Australia for the very first time. When he listened to my performance of Rebonds, he gave me a great compliment with the following message: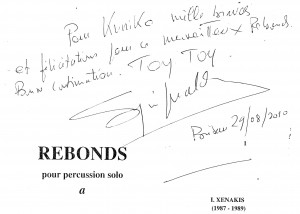 Finally, I would like to send my sincere thanks to all who supported this year-long project. I am very fortunate to have had a chance to record the great works of this amazing twentieth-century composer, Iannis Xenakis. © KUNIKO, 2015
COMPOSER'S NOTE
PLÉÏADES
Pléïades: [pluralities] [several], there are six percussionists and four sequences. The primordial element is rhythm, in other words the ordering in time of events, the combination of durations, intensities and timbres. It is constructed in several parallel fields but with transverse circulations, i.e. figures are simultaneously deformed or not, as the case may be. Some of the fields are made manifest by accents which superpose rhythms onto the normal beat. The timbres of the membranes are also functional, being subject to rhythmic fields.
The sole source of this polyrhythm is the idea of periodicity, repetition, duplication, recurrence, copy, faithfulness, pseudo-faithfulness and unfaithfulness. For example: a beat incessantly repeated with the same pattern represents a faithful copy of a rhythmic atom (of course a metre in ancient music is already a repeating rhythmic molecule). In this way, small variations in the pattern produce internal rhythmic activity without damaging the fundamental period. Greater and more complex variations of initial period create a disfiguration which may lead to immediate non-recognition. More diverse variations, of still greater complexity or (which often comes to the same thing) resulting from the chance distribution of a particular stochastic procedure leads to total rhythm, to a knowledge through mass of events, to notions of clouds, nebulae, dust galaxies of rhythmically organized beats. Moreover, the speeds of these transformations create new disfiguration superposed upon the preceding, ranging from little continuous accelerations to rapid, not to say exponential transformations (still continuous) which sweep the listener along like a whirlwind, dragging him as though to inevitable catastrophe or to a contorted universe. Again infinitely great speeds, corresponding to brutal breaking-up of transformations, move instantaneously from one kind of evolution to another of an essentially different type.
An axiomatization together with formalization, as represented by theory of pitch-series envelopes a certain number of such problems of transformation in all domain, spaces or ordered ensembles.
In Pléïades this basic idea of duplication (recurrence) in time of event or of a state of being which our physical but human universe is submerged is also taken up in another musical [dimension], that of pitch. In this dimension European (Western) music has remained immobile since Greek antiquity. The system of the diatonic scale still holds away, even indeed especially, in those kinds of music (such as serial music) in which total chromaticism is the basis for the choice of notes. Moreover its extension to a scale in which the unit would be the comma would not change the [climate], the force-field of the melodic lines or the pitch-clouds.
This is why I have undertaken this double endeavour. The first, as was already the case in Jonchaies for orchestra, being to construct a frankly non-Western scale of sufficient firmness and character, but capable of being played on diatonic keyboard instruments such as marimba, xylophone and vibraphone. The second essay was to have a new metallic instrument built, called the SIXXEN, comprising nineteen irregularly distributed pitches with steps of quarter-tones or thirds of tones or their multiples. In addition the six copies of the instruments taken as a whole should never produce unisons. As far as the first question is concerned, after a long trial I constructed a series (scale) which with surprise, was similar to the ancient Greece, of the Near East or Indonesia. However my scale, unlike these traditional scales, is not based on the octave; it possesses internal symmetries and manages to cover the total chromatic space in three consecutive copies (periods), thus enabling it to create by itself, without any transpositions, supplementary harmonic fields when polyphonic superpositions are made. © 1979, 2013 Éditions Salabert (Paris).
All rights reserved. With kind permission from Hal Leonard MGB.
COMPOSER'S NOTE
REBONDS
Rebonds is in two parts, A and B. The order of play is not fixed: either AB or BA but without a break. The metronomic indications are approximate. Part A only uses skinned instruments: two bongos, three tom-toms and two bass drums. Part B uses two bongos, one tumba, one tom-tom, bass drums and a set of five wood blocks. The tuning of the skins and the wood blocks should extend over a very wide range. © 1991 Éditions Salabert (Paris).
All rights reserved. With kind permission from Hal Leonard MGB.